Kerry has been one of our long-time patients — so long, in fact, that in the 20 years she's been here, her kids have grown up, moved out, and have kids of their own! Kerry and her husband have decided to move on as well. But before she left the Baulkham Hills area, Kerry wanted to get a beautiful smile makeover, similar to the one we did for her daughter Skye.
The only problem: her travel plans were already set, so we had to make sure she could get her smile before moving. Could we get it done in time?

Will Six Month Smiles Live up to Its Name?

Kerry had many complaints about her smile: crooked lower front teeth, discoloured teeth, and overall appearance of her upper front teeth. The best way to get straight teeth for Kerry was orthodontics. Unfortunately, that's something that we can't really rush. It depends on the speed at which the bones can be reshaped around the teeth.
Six Month Smiles manages this problem by focusing on the teeth in the aesthetic zone, the ones that show when you smile, that are also smaller and easier to move. But the name is not a guarantee: it can sometimes take longer than six months. So we set her up with a treatment plan and hoped for the best.
And the gamble paid off: exactly six months later, the braces came off and Kerry's teeth were as straight as we had hoped.

One Visit to Brighter Teeth
The next step was to take care of discolouration. This is easy to do quickly: ZOOM! teeth whitening has speed built into its name. Just one visit and two hours later her teeth were dramatically whiter.

Porcelain Veneers: the Piece de Resistance
As with a lot of us, Kerry's upper teeth showed significant wear. Minor chips and cracks, and significant discolouration that wouldn't respond to teeth whitening all affected the appearance of her smile. The best solution to these kinds of problems is porcelain veneers, which can be used to give any smile a beautiful look. Fortunately, porcelain veneers can be done quickly. It only takes two visits, and typically less than a month, to complete a porcelain veneers smile makeover.

The Results
Looking at the final results, Kerry is delighted, and so are we. Saying goodbye to such a long-time patient and friend is hard, but we can't think of any better send off than such a wonderful smile makeover!

Before
After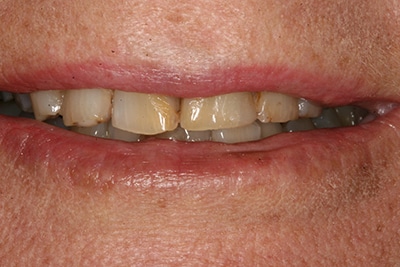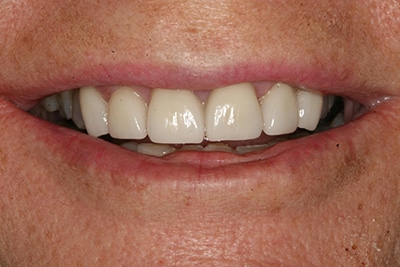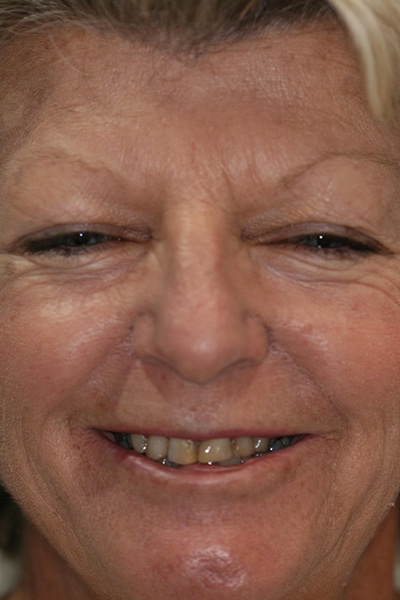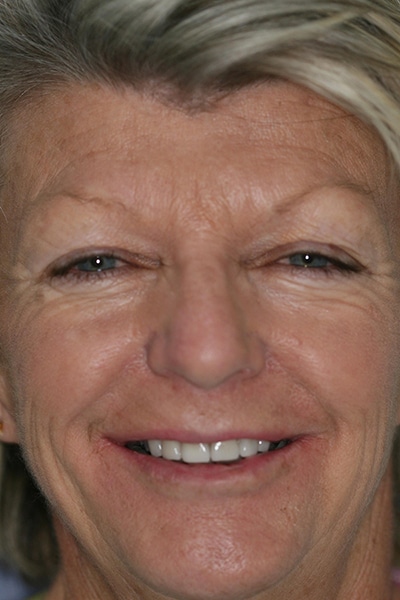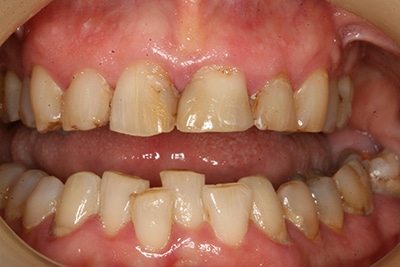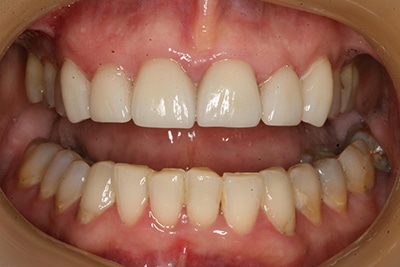 Could We Have Done It Faster?
Kerry's smile makeover took just 7 months start to finish, which is pretty fast for such a dramatic transformation. But what if you don't have 7 months? Can you still get such a dramatic smile makeover?
Yes and no. Orthodontics is the big limiting factor. As we said, moving teeth depends on the speed at which your body can rework the bone around your teeth, and that's a slow process. Rushing it too much can cause problems. In some cases, though, we can do what is called an "instant orthodontics" procedure. In this procedure, we use porcelain veneers and/or dental crowns to reshape the teeth so they are straight instead of moving the teeth roots. This means that you can get straight teeth in a month, too.
But there are trade-offs: it's more expensive and it's not right for every situation.
Do you have an upcoming special event and want to make sure that your smile looks its best? Please call (02) 9686 7375 today for a consultation with a Sydney cosmetic dentist at My Hills Dentist. We can evaluate your smile and let you know if we can meet your deadline.