Dental implants are the most functional, durable, and natural-looking treatment for missing teeth. As more patients learn their benefits and choose them over other options such as dentures or dental bridges, some have questioned whether all dentists, or only those who specialise in dental implants, should be allowed to conduct implant procedures.
Sydney cosmetic dentist Dr. David Lee, who has extensive experience with dental implants, made the case for general dentists in a recent Bite magazine article. But before we discuss the opposing viewpoints on dental implant specialisation, it's important to understand a bit about dental implants themselves.
Dental Implants: The Basics
Dental implants are fundamentally similar to our natural teeth. A dental implant consists of a titanium anchor that acts as a replacement root and a ceramic dental crown that looks and feels like a healthy tooth.
The implants are placed in the jawbone, and bone tissue grows around the implant posts to hold them firmly in place. After the jaw heals and the implants are secure, they are capped with custom-made crowns that provide normal bite function.
Who Can Place Dental Implants?
Any dentist may provide dental implants; implant placement is not currently a recognised specialty. Dental implants are offered by general dentists, cosmetic dentists, periodontists, orthodontists and oral surgeons.
Some believe dental implants are best placed by dentists with specific training and that a formal specialisation should be created. Others, however, contend that general dentists are well suited for dental implants treatments, and that special certifications are not necessary.
Dental Implants and Your Dentist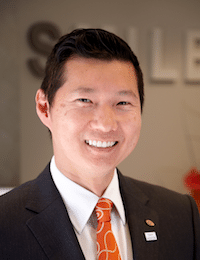 Dr. Lee has helped many patients restore beautiful, healthy smiles with dental implants. Among his professional affiliations are memberships in the Australian Society of Implant Dentistry and the International Team for Implantology. In the recent Bite magazine article "An Implanted Dilemma," Dr. Lee explained why he thinks a specialisation requirement would go too far.
"At a technical level, there really shouldn't be a difference in the skills between a general dentist and a specialist dentist when it comes to implants," Dr. Lee said. "It comes down to how much experience the practitioner has had."
Dr. Lee's training in implant dentistry shows his commitment to attaining the skills that might qualify him as a dental implant specialist, were such a thing to exist. But he thinks that adding such a specialty could actually lead to worse patient care.

Putting Patients First
"Ultimately, it's about providing the best possible care for patients," Dr. Lee explained. "If patients who are desperately in need of implant treatment are not receiving that because they have to see specialists, and due to varying constraints they're unable to, those patients aren't being looked after."
As Dr. Lee pointed out, many patients also feel comfortable with their personal dentists and would actually prefer their general practitioner to place dental implants. "The general dentist has built up a relationship and trust with their patients over a period of time."
If you're missing teeth and would like to learn more about dental implants and other treatment options for missing teeth, please call My Hills Dentist today at (02) 9686 7375 to schedule your consultation with Dr. Lee at our Baulkham Hills Office.