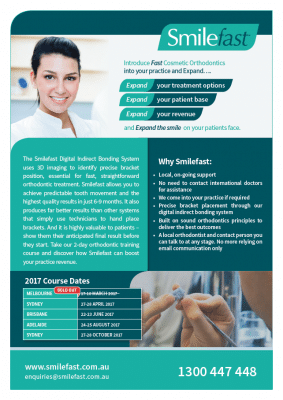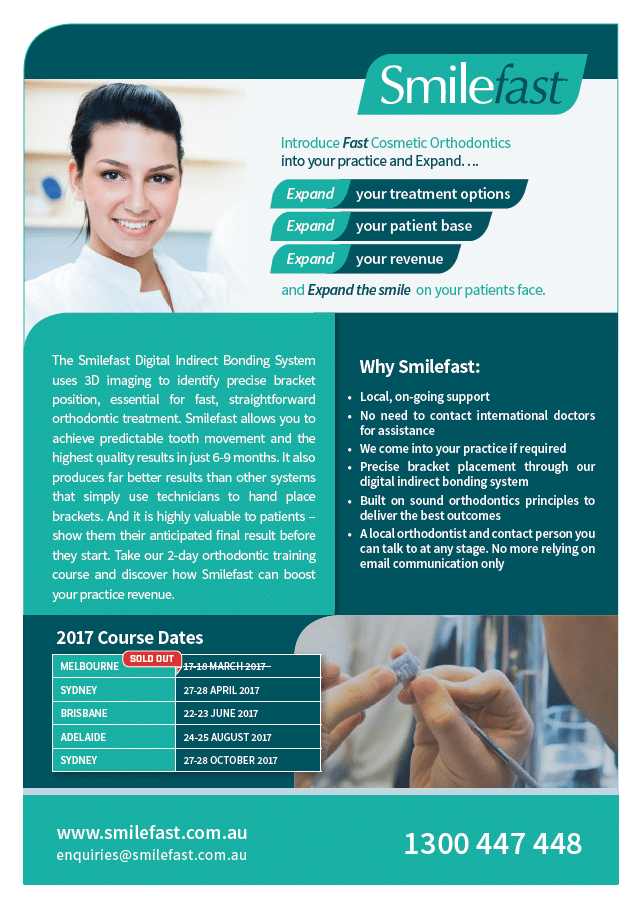 Australasian Dentist Magazine
Dr. Lee is dedicated to high quality work for every patient. One of his orthodontic cases using Smilefast (completed in just 7 months!) was recently featured in Australasian Dentist Magazine.
Benefits of Short Term Orthodontics
Smilefast is a new form of short term orthodontics that utilizes advances in computer imaging and planning to maximize the speed and accuracy of your orthodontic treatment. Smilefast is a great alternative to traditional orthodontics because:
You see the final results before you get started
You spend less time in the chair getting brackets bonded
Less repositioning of brackets during treatment
We precisely control the movement of each tooth
Treatment is faster, often six months or less
Clear brackets and white wire make braces very subtle
Results are predictable and precisely planned
Braces are a highly effective orthodontic treatment, but they do have limitations. Smilefast is an update of braces that uses advanced technology to overcome these limitations.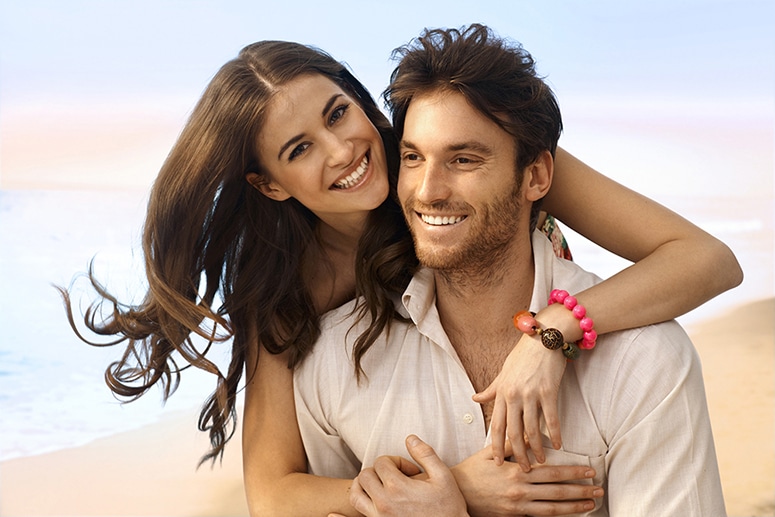 How Smilefast Works
Smilefast starts with a detailed 3D image of your teeth as they are. Then the software analyses the position of your teeth and plans an automatic sequence of movements to get your teeth into the straight smile you desire. This includes an optimal positioning of brackets to ensure they get maximum leverage and can move your teeth as quickly as possible to their desired position.
We're then sent the computer file to review. We can look at all the steps of the orthodontic treatment, and, if necessary, make adjustments to optimize your comfort and results.
Once we're happy with the sequence, we approve the case and Smilefast manufactures the brackets in transfer trays that make it easy to get accurate placement of the brackets quickly. Then you'll come in and we'll bond the brackets to your teeth. The transfer tray makes this fast—you'll spend much less time in the chair than with traditional braces. We'll then add the archwires and you're good to go.
In follow-up visits, we will check on your progress and make adjustments to your arch-wires as necessary. We may move a bracket, but Smilefast is an orthodontic treatment that places the brackets optimally to start, so this is unlikely.
Smilefast Limitations
As with other short term orthodontics, Smilefast can't handle all cases. It is designed to tackle the cosmetic aspects of your smile, to give you a beautiful-looking smile quickly. If you have serious bite problems, you will need a more comprehensive orthodontic treatment.
However, another benefit of Smilefast is that the computer simulation is designed to analyze your bite to determine whether you're a good candidate or not. You won't start treatment, then learn later it won't work for you. If we approve you for treatment, you can be confident that you will get a beautiful, straight smile when the treatment is complete.
If you would like to learn more about Smilefast in the Sydney area, please call (02) 9686 7375 or contact My Hills Dentist in Baulkham Hills today.
Any surgical or invasive procedure carries risks. Before proceeding, you should seek a second opinion from an appropriately qualified health practitioner.