Many people think that oral health is just about the mouth, but the truth is that many oral health problems have an impact on your systemic health. Gum disease, especially, is linked to many systemic problems, such as heart disease, rheumatoid arthritis, and diabetes. Now a new study has also linked gum disease with prostate symptoms.
Systemic Inflammation Linked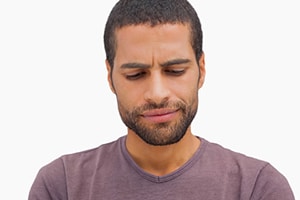 This study looked at 27 men age 21 and older. The men all had confirmed swelling of the prostate gland via a needle biopsy and elevated prostate-specific-antigen (PSA) levels.  The men were also given a survey intended to assess urination and quality of life in terms of prostate-related symptoms, the International-Prostate Symptom Score (IPSS).
These men also had moderate to severe gum disease, which was treated. Four to eight weeks later, the men had their periodontal condition assessed again and showed significant improvement.
The men were given no treatment directly for their prostate conditions, but 21 of the 27 men showed decreased levels of PSA. All men showed improvement of their IPSS symptoms as well.
Researchers present the hypothesis that prostate conditions and gum disease are linked as common inflammatory conditions. Gum disease, as a chronic infection can lead to inflammation throughout the body, including the prostate.
Standard Care to Combat Prostate Symptoms
Researchers hope that this research will be supported by future studies, and that periodontal treatment might someday be a standard part of prostate care, similar to the way it is incorporated into heart care and prenatal care.
There are many health conditions that are worsened by gum disease. To protect your whole body health, it's important to make sure you have your teeth cleaned regularly and treat gum disease as it arises. Not only that, it can reduce your overall health care bills.
If you are looking for a Sydney dentist to help protect your oral health and overall health, please call (02) 9686 7375 for an appointment at My Hills Dentist in the Baulkham Hills area.