A spokesman from the Australian Dental Association has encouraged people to see That Sugar Film, a documentary on the effects of sugar on a person over the span of 60 days. Among the effects the film discusses is the erosion of teeth that can occur when people consume sugar.
Bad Effects from "Healthy" Food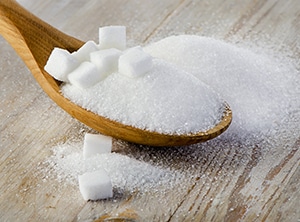 What sets That Sugar Film apart from other food shock-docs like Super Size Me is that the star, Damon Gameau, isn't actually eating a ridiculous amount of sugar. He's eating about 40 teaspoons of sugar, which is on the high side, considering the average Australian eats about 29 teaspoons a day, but according to the filmmakers, the amount is actually that consumed by the average teenager worldwide.
He's also only eating it in so-called "healthy foods": no confectionery, ice cream, or fizzy drinks. As the documentary notes, this isn't a challenge: sugar is in about 80% of the foods we eat. Even though Gameau only ate these healthy foods, he still experienced significant problems like mood shifts, weight gain, pre-diabetes, and fatty liver disease.
One important caveat for the film is that Gameau had quit eating sugar three years before, so the sudden transition to a diet with so much sugar probably accentuated the effects.
Tooth Decay Featured
Although tooth decay effects on Gameau couldn't really be seen much during the course of 60 days, the film does talk about the long-term effects and the impact of excessive sugar consumption. One scene features a young American who goes to see his dentist and reveals teeth decayed by drinking excessive amounts of Mountain Dew, which combines both sugar and acid to attack the teeth.
Are You Really Eating Healthy?
If you take anything away from this documentary, you should not assume that eating "healthy" foods actually means your diet really is healthy. With concealed sugars in many popular foods, you may be eating a lot more sugar than you think, which can lead to significant tooth decay.
It's important to take good care of your teeth and gums, both with home care and with regular check-ups and cleanings at the dentist.
If you are looking for a dentist in Baulkham Hills, please call (02) 9686 7375 for an appointment at My Hills Dentist today.