Dental implant success depends on many factors, including systemic conditions that may seem like they have little to do with your oral health. Among these effects are the medications you are taking. Here are some medications that may affect your dental implants.
Antidepressants
In a recent study, a popular class of antidepressants was found to have a significant impact on dental implant failure. People taking SSRIs (selective serotonin reuptake inhibitors) were found to be 6.28 times more likely to experience dental implant failure than those who were not taking this type of medication. SSRIs have previously been linked to loss of bone mass. This class of antidepressants includes popular drugs like Prozac, Zoloft, Cipramil, and Lovox.
Bisphosphonates
Bisphosphonates are a group of medications taken for osteoporosis. They work by inhibiting cells that remove material from your bones in order to improve the density of bones. The problem is that removing bone is almost as important to bone healing as placing bone, which means that it might be harder for your body to incorporate dental implants if you're on this type of medication. The data on the magnitude of this impact is mixed, but it's an important one to consider.
NSAIDs
Nonsteroidal anti-inflammatory drugs (NSAIDs) are a common class of pain relievers that are available over-the-counter. This includes ibuprofen (Nurofen, Advil), diclofenac (Voltaren, Dinac), naproxen (Naprosyn, Aleve), and celecoxib (Celebrex). Some studies suggest that this class of drugs can impair bone healing. The data is mixed, though, and it's only recommended that you avoid them if you have other risk factors for dental implant failure.
Antibiotics
Some antibiotics have been shown to impair bone growth. Fluoroquinolones are the primary class of antibiotics that have been associated with bone growth problems and impaired bone healing. Several antibiotics in this class have been associated with bone growth problems, including ciprofloxacin, levofloxacin, norfloxacin, and ofloxacin. The bad news is these are sometimes used to control gum disease that threatens dental implants. The good news is, there are many other antibiotic options that have not been shown to impair bone growth.
Not an Exhaustive List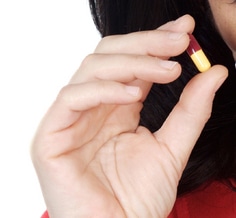 Although these are examples of some of the most common medications that can impact your dental implants, it is not an exhaustive list of all the ones that can put your dental implants at risk. What's most important is that you be an active part of your dental implant team and let us know all the medications you're taking and if any of your prescriptions change.
Working together, we can ensure you have the highest chance of dental implant success. To learn more about getting the best dental implant results, please call (02) 9686 7375 for an appointment with a Sydney implant dentist at My Hills Dentistry.