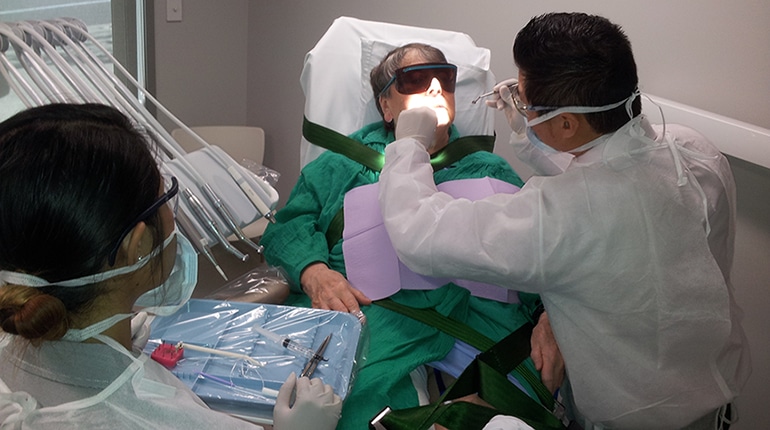 Not all dentists are created equal! Not only are some dentists more experienced or have better bedside manner than others, but not everyone needs the same things out of their dentist. That's why it's so important that you find the dentist that is best suited for your lifestyle, goals, and oral health. But how, exactly, do you do that?
Find a Well-Qualified, Well-Equipped Dentist
Before you look for any other qualities, you should ensure that your dentist and their team know what they're doing! It takes more than just a dental degree to be a great dentist.
For example, after getting his dental degree, Dr. Lee has gone on to maintain active memberships in national and international dental associations, to ensure that he is up-to-date on the latest dental practices. He has collected nearly 25 years of hands-on dentistry experience, and has even pursued post-graduate education in dental implants and orthodontics. Even though Dr. Lee obtained his dental degree in 1992, he's not performing dentistry from the 90's! His dedication to keeping up with advances in dentistry ensures that the care he provides is informed by all of the latest dental research and understanding.
In addition to qualifications, you'll want to make sure you're visiting a dentist who is on top of modern dental technology. Advancements in dentistry have made dental care faster, more efficient, more comfortable, and more effective than ever — so why see a dentist who doesn't utilize the latest technology?
Find a Dentist Who Meets Your Needs
Not everyone needs the same things from their dentist. If you wrestle with maintaining good oral health, you'll need a dentist with excellent general dentistry skills, who can treat common oral health problems like gum disease and cavities.
If your top priority is having the most beautiful smile possible, you should ensure that you're seeing a dentist who can tackle all of your cosmetic concerns, from whitening to implants to orthodontics, and everything in between.
If you suffer from larger-scale medical concerns like TMJ or sleep apnoea, it's a good idea to find a dentist who is experienced with these disorders and can factor them into your oral health care. In fact, if you have one of these disorders and haven't yet seen a dentist who is familiar with them, you may not even know that your dentist can help treat them!
If you experience dental anxiety or fear, it's imperative that you see a dentist who understands how to help you surmount those obstacles. Sometimes having a dentist who is experienced with dental anxiety is enough, but for those with severe dental anxiety, it may be best to find a dentist who offers sedation dentistry.
And of course, it's important to find a dentist who is local and easy to visit! If you're looking for a dentist in Baulkham Hills, look no further. Dr. Lee and his team can provide a personalized, comprehensive dental experience that meets all of your varied needs. Call (02) 9686 7375 or contact us online to make an appointment.