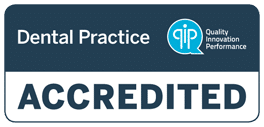 At My Hills Dentist, we are dedicated to ensuring the safety of our patients as well as helping them achieve their best possible oral health. As part of a sign of our commitment, we have achieved accreditation with Quality Innovation Practice (QIP), a non-profit organization that helps dentists achieve not just accreditation, but also a culture of progressive approaches to patient care.
What Accreditation Means for You
Accreditation is a voluntary step that dental practices can take. It's not something that every dentist has to have to practice in New South Wales. Instead, it's something that can help you decide between dentists. An accredited dentist shows that a dentist:
Has implemented a culture of quality care and patient safety

Works to reduce clinical and other risks by:

Addressing medication risks

Working to control infection

Created procedures for ensuring each patient receives the planned treatment

Engages the entire staff in safety protocols

Knows when to refer you to a specialist or follow up with your primary care physician
In other words, accreditation means that your dentist's practice has been thoroughly evaluated from a safety standpoint.
Accreditation is also not just a one-time application. It's something that must be maintained continuously, so when you see the QIP symbol, you know that a dentist is being constantly monitored to ensure the quality of care remains high.
What Accreditation Means for Us
At My Hills Dentist, we know there's sometimes a long distance between saying you're committed to patient care and actually following through on it. We always believed the quality of care we offered was on a par with the highest standards in the land, but we wanted to prove it.
Compiling all the detailed records and going through the accreditation process was a lot of work, but it was worth it to us to know for sure that we were meeting all the best practices in dentistry.
We would love to talk to you more about the potential benefits of working with a QIP-accredited dentist. Please contact My Hills Dentist in Baulkham Hills today to ask us about accreditation or schedule an appointment.