Overall, most don't complain about denture pain. This cosmetic dentistry option offers minimal discomfort. However, there are times where patients can suffer from soreness, swelling, and inflammation.
Denture pain can get rather uncomfortable. But the good news is, there are ways to prevent this and get some relief.
Below are 5 things you can do to help reduce denture pain.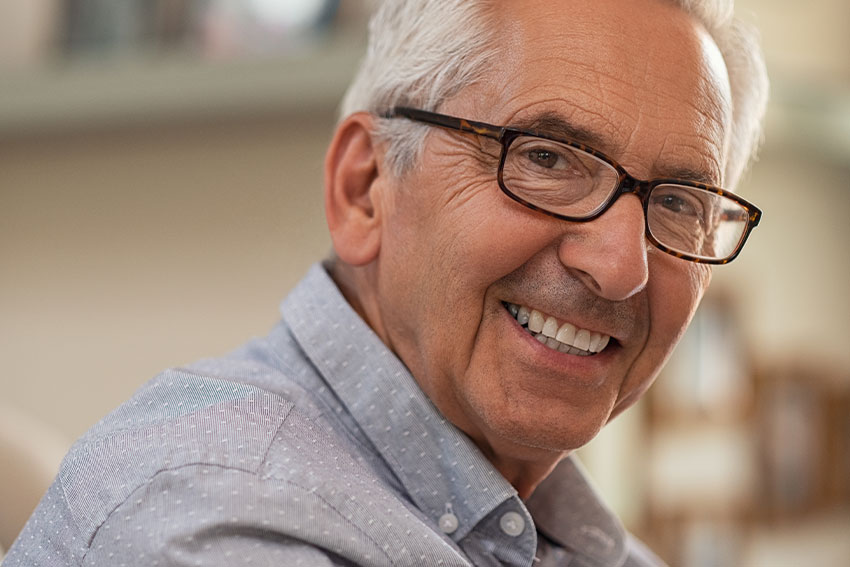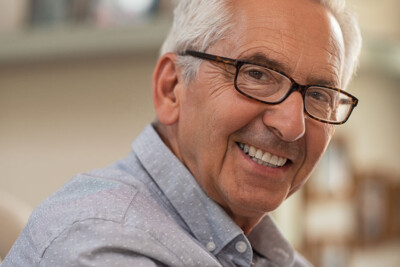 1. Caring For Your Dentures
First, practicing proper denture hygiene and cleaning is a good idea for a number of reasons. It not only helps to avoid discomfort, but also ensures they will last longer.
Key Denture Care Activities Include:
Brush Twice Daily: Much like natural teeth, dentures need to be brushed twice a day. A non-abrasive cleaner is recommended, like soft hand soap.
Soaking: Dentures need to be soaked daily, too. This is to remove bacteria (plaque), as well as to disinfect them. Our dentist in Baulkham Hills can recommend a top cleaning solution. Please note, soak your dentures for about 30 to 40 minutes. Any longer than this can cause damage to the denture.
Remove Them Nightly: Remove your dentures before you go to sleep, and place them somewhere dry and safe. Taking your dentures out for this extended period of time allows your gums and mouth to rest and relax. It also helps to prevent infection in the gums under your denture. If you are experiencing pain, removing your dentures at night also helps to heal the areas in your mouth that are hurting.
Overall Oral Health: Not only should you be cleaning your dentures twice daily, but your mouth requires care, too! Brushing the inside, including the roof, helps to prevent gum infection. Rinsing with a mouthwash one or two times each day eliminates bacteria. It's always good to practice proper oral hygiene. Plus, this helps to prevent gum disease.
2. Watch What You Eat and Drink
When you first get your dentures in, reach for "soft foods". Good examples of this are soup, oatmeal, or pudding. Consuming "harder" foods can cause damage to your dentures or irritate your mouth and gums.
Also, it's important to promote saliva flow in your mouth. The last thing you want is for your mouth to be dry, as this increases gum irritation and denture friction. Adequate saliva flow helps to prevent this. Therefore, another good idea is to drink plenty of fluids that promote saliva production. Sadly, coffee is not on that list, so if you need a caffeine boost throughout the day, ensure you have plenty of water, too!
Berries and seedless grapes are excellent snacks to reach for. Meanwhile, hard foods like chips, seeded bread, nuts, and sticky candy are a no-no.
3. Home Remedies
There are plenty of remedies at home that help relieve denture pain.
Some Include:
First, swishing or gargling salt and water in the mouth can decrease any gum swelling or sores.
Place aloe vera gel over inflamed gums. This soothes and heals the area that is sore or swollen. Avoid eating for about an hour after application.
Black tea can help with denture pain. You can place wet black tea bags directly on the area of discomfort. Lastly, some use this tea as a mouthwash to help enhance overall all gum health.
Turmeric is a spice that can be found at most health-food retailers, Indian and Asian grocery stores, plus, well-stocked big-box chains that sell food. It helps with gum inflammation, swelling, and pain. You can mix a ¼ teaspoon of turmeric with a little water to make a paste. Gently massage it on the affected areas, and leave it on for five minutes.
Cloves are an excellent home remedy for denture pain. Mix ground cloves with a little olive oil, and apply. Wait five minutes, then rinse the area with warm water.
4. Allergies
Adhesives, cleaning solutions, and the materials in the dentures themselves can cause allergies. The end result? Swelling and discomfort in the gums. Mouth ulcers can develop, too. If you have a feeling your pain is due to allergies, visit a Baulkham Hills denture dentist to talk about alternatives.
5. Visit Your Dentist In Sydney
Regular dental check-ups can help identify issues before things get complicated. Maybe it's time to visit a Sydney dentist? Worn-out, damaged, or ill-fitting dentures can cause pain and discomfort in your mouth. A new set of dentures might help. The set you have might need repairs.
Either way, booking an appointment with us, is a good first step.
You don't have to live with denture pain. Learn the reasons behind your discomfort and how we can resolve it, by calling us (02) 9686 7375 today. You can also request an appointment online at My Hills Dentist in Baulkham Hills.