At My Hills Dentist, we remain committed to finding and working with the best techniques and technologies in dentistry, so we're always adding new approaches to our practice. We are happy to announce that our practice has just been certified in the use of the Biofunctional Prosthetic System (BPS) dentures, a denture manufacturing system that is designed to consistently and efficiently produce great-looking and great-functioning dentures. This makes My Hills Dentist the first practice in the world to combine the innovation of the Denture Fountain of Youth™ technique with the BPS manufacturing system.
A Perfect Combination
FOY Dentures™ are an innovative approach to designing dentures utilizing the insights of neuromuscular dentistry to ensure that dentures fit well, function well, and look great. The system allows us to take your muscles into account when designing your dentures so that these dentures are designed to reproduce the proper full height of your smile. This reduces wrinkles, folds, and sagging tissue in the lower third of the face, giving you a nonsurgical facelift. You look younger with no surgical risks, no surgical downtime, and no surgical expense.
FOY Dentures™ also fit well because they are designed to fit your mouth in motion. This allows the muscles to partly support the denture and evens the pressure on your gums so that you don't get painful pinch points that don't just hurt, they can damage your bone.
Getting these great results from FOY Dentures™ depends on manufacturing the dentures to the exact parameters we specify, and that's where BPS comes in.
Bright, Beautiful Teeth in Dentures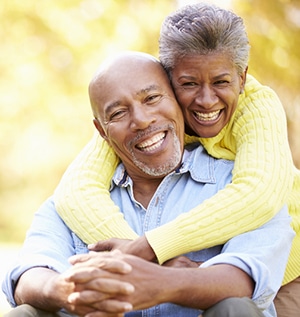 BPS is a technological development by Ivoclar Vivadent, one of the leaders in manufacturing dental restorations like porcelain veneers and dental crowns. They took many of the lessons they learned developing restorations for cosmetic dentistry needs into the manufacture of their dentures.
The teeth manufactured for BPS dentures use a multi-layer acrylic, which gives them a translucence that mimics that of natural teeth. The layering technique also makes them more resistant to wear, which means they can last longer.
Great Fitting Dentures
The BPS process is designed to ensure proper fit. It teaches us how to get accurate impressions and how to translate those impressions into properly fitting dentures. This includes the use of high-quality armatures to better simulate the motion of your jaw so we know your dentures are designed to fit the way your jaw works and accurately achieves the goal of the Denture Fountain of Youth™ process.
The manufacture of the dentures also helps the fit. It is pressure injected and cured which means that it won't shrink or warp, ensuring that the denture fits exactly as it was intended.
What BPS Certification Means
In order to become BPS certified, we had to take a course instructing us in all the essentials of the BPS method for manufacturing dentures, which includes planning, taking impressions, and fitting. It gives us access to BPS-certified labs which have been trained in the manufacture of these unique, quality dentures. It also means that we have access to ongoing training materials that ensure we remain at the forefront of denture technology.
A World's First
My Hills Dentist is the first dental practice in the world to bring together these two complementary systems, but we expect we won't be the last. Combining the Denture Fountain of Youth™ process with BPS just makes sense: it helps us ensure that dentures are designed properly and manufactured properly to ensure the outstanding appearance, great fit, and superb function for your dentures.
If you would like to learn more about what sets BPS and FOY Dentures™ apart from the others, please call (02) 9686 7375 for an appointment with a Baulkham Hills denture dentist at My Hills Dentist.