In the past, there had been some concern that dental implants would not be suitable for elderly patients. The thought was that bone healing might be impaired in those over the age of 65, but a newly published study shows that's not the case. Elderly patients can have just as good a success rate with dental implants as younger patients.
Nearly 1000 Implants
This study, which was just published online ahead of print on January 18, looked at 906 dental implants placed in 346 elderly patients. The patients ranged in age from 65 to 89, making them a good range of patients for this study. Follow-up was performed from 2 to 17 years after implants were placed.
Of the 906 dental implants, there were only 26 failures, making for a survival rate of about 95%. Not only that, but the amount of bone loss for the implants averaged only 0.17 mm, which is relatively small, and shows that these implants remained healthy in these patients over the time since implantation.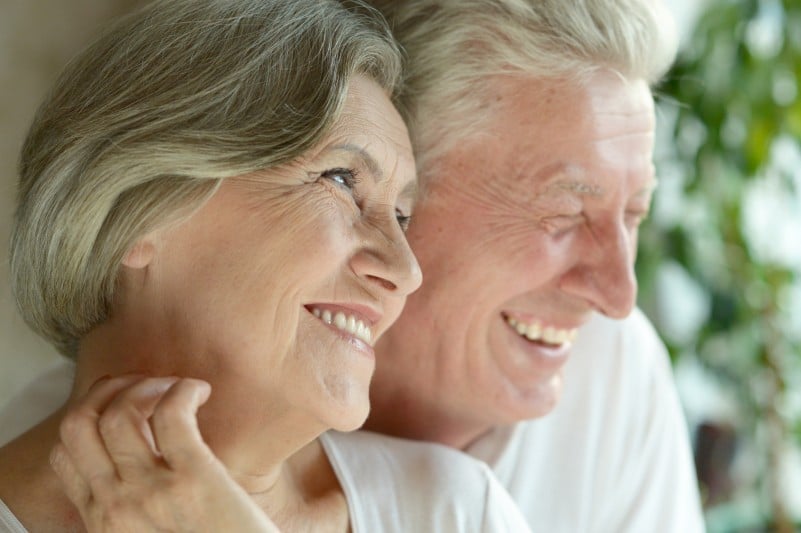 Potential Health Concerns
Based on the quality numbers in this study, we might wonder why people ever expressed concern in the first place, but there are a number of potential concerns for elderly patients getting dental implants. For example, if you have osteoporosis, a loss of bone density, you may not have enough bone to support dental implants. And your osteoporosis medication may also impact your body's ability to integrate the implants.
Another concern is gum disease, which tends to increase with age. Gum disease can affect your dental implants the same way that it affects your natural teeth, eroding the bone around them and leading to failure.
Arthritis can impact your ability to clean your teeth, which also increases your risk of gum disease. And if you have rheumatoid arthritis, your medications might also interfere with integration of your dental implants.
Otherwise, our concerns for elderly patients are similar to those for younger patients.
How Long Will You Be Living with Dentures?
These days, elderly persons have many years of vigorous, active living ahead of them. In Australia, if you've reached the age of 65, you're likely to live to 84 if you're a man, 87 if you're a woman. That's 20 years or more, and it's far too long to be living with loose, poorly functioning dentures.
Dental implants, whether they fully secure your dentures or just help hold them in, can dramatically improve your experience with dentures. Implant dentures let you chew and enjoy more foods, and live an active, social life without worrying what your dentures are going to do. And with the Denture Fountain of Youth ®, you can enjoy comfortable dentures that have a rejuvenating effect.
To learn more about the benefits of implant dentures in Sydney, please call (02) 9686 7375 for an appointment with an implant dentist at My Hills Dentist in Baulkham Hills.