At My Hills Dentist, the wide hallways and large operatories are about more than just comfort, they're about accessibility. We have always valued making our practice accessible, and the following story will demonstrate why.
We Are Fully Accessible to Hospital Gurneys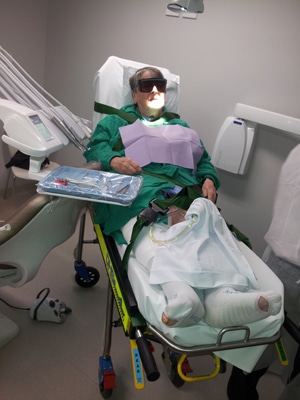 We recently got a call from a local private hospital. One of our patients had broken a tooth on something in her hospital meal. She was afraid that if she did not get treatment soon, the entire tooth would collapse. She was bed-bound from surgery on the veins in her legs. The hospital wanted to know if we could help her.
This was no problem for us. The ambulance drove right up to our door and wheeled her in on a gurney. It fit down the halls and into an operatory, where we were able to work as she lay in bed. All the lights and other dental equipment swung wide enough to go over her bed, and it was comfortable for a dentist and assistant to work in the room, even with the gurney.
We discovered it was her lower right premolar that was broken, were able to fix it and send her back to the hospital.
Not many dental offices in Baulkham Hills are this accessible. It's not something that most of our patients need very often, but when it matters, it can be very important.
When You're Choosing Dentists
There are many things to consider when you're trying to choose your dentist. Likely you know many of them, such as looking at a dentist's training and experience. These things you can look up online. Some qualifications, though, can be so subtle and easy to miss, that it's likely you'd never think of them, and if you did, you might never imagine you'd need them.
In choosing a dentist, you're never going to think of every detail you should ask about. Instead, you should try to find a dentist who's already thought of every detail, and is ready to give you the care you need in any situation. And that's why you should talk to a dentist in person, to get a sense of whether you trust him to have thought of everything, so you don't have to.
If you are looking for a new dentist in the Baulkham Hills area of Sydney, please contact My Hills Dentist today for an appointment.