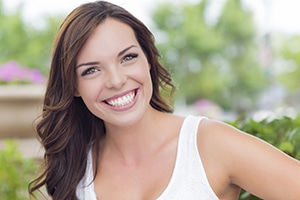 Dental implants are the tooth replacement option that is most like your natural teeth. They look the most attractive, function the most like your natural teeth, and can last a lifetime if you take care of them as you should take care of your natural teeth.
So it's no surprise that when it comes to tooth replacement options, dental implants are better than any other choice. A new study published in the Journal of International Dentistry shows that people with dental implants report a higher quality of life than those with any other restoration.
The Best of All Options
The new study compares the satisfaction people had with various different treatments used following tooth loss. The study population consisted of 237 women who had lost one or more adjacent teeth. For the missing teeth, 64 got dental implants, 60 got dental bridges, 47 got removable dentures, and 66 got no replacement. The women were given a 23-question survey that rated satisfaction with many aspects of their life, including their work, health, emotional state, and sex lives.
Overall, women with dental implants reported the highest satisfaction with their lives, while those with dental bridges reported the second highest satisfaction. Dentures led to better satisfaction than getting no restoration.
Women with dental implants also reported the highest satisfaction in emotional and sexual area while those with no restorations were the lowest in this area. Researchers also noted that satisfaction with the aesthetic results is as important as chewing function.
Are Dental Implants Best for You?
This study shows that getting teeth replaced is important for your quality of life. If you have lost teeth, we can evaluate your oral health and let you know if you are a good candidate for dental implants.
To schedule a consultation with a Sydney implant dentist, please call (02) 9686 7375 for an appointment at my Hills Dentist in Baulkham Hills.