Dental implants are the best tooth replacement option, especially when you choose the Sydney implant dentists at My Hills Dentist to place them for you. 
Still not convinced? Let us share these 10 benefits. The first five are general dental implant benefits. The second five are special to our practice at My Hills Dentist, thanks to our digital dental implant process.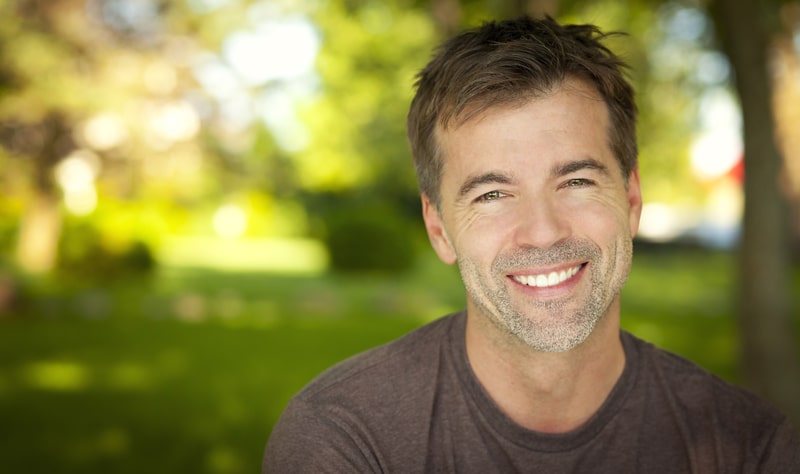 #1 Natural Tooth Appearance
Dental implants can help you achieve the most natural replacement tooth appearance. That's because dental implants are the only tooth replacement that's structured like your natural teeth. 
Like your natural teeth, a dental implant has a tooth root that can bond with your jawbone to provide a secure attachment. Other tooth replacements are attached to your natural teeth, or sometimes to nothing. Dental implants secure to your bone, allowing gum tissue to nestle closely to the implant, just the way it does with natural teeth. 
In addition, the dental implant has a crown or bridge, which can attach to the implants. The crown design can exactly mimic the appearance of a natural tooth because that's its job: to look natural. 
# 2 Eat All the Foods You Love
With the dental implant fully secured in your jawbone, you will enjoy the same function from your implants that you got with your natural teeth. This means that dental implants allow you to eat all the foods you loved to eat with your natural teeth. 
Dentures, and sometimes even dental bridges, might not be able to restore the full function of your bite. However, with dental implants, your bite can be fully healthy again. You will get to eat all the foods you enjoy, even some you might have given up in recent years because of poor oral health. 
#3 Easy to Care for
It is easy to care for dental implants. They don't take any special care compared to natural teeth. All you have to do is brush, floss, and make regular dental visits. 
As with your natural teeth, it might take a bit to learn how to floss your dental implants properly. Sometimes, you might benefit from switching to a different flossing approach. This might mean a different style of floss, an interdental cleaner, or even a water flosser to clean them properly. Otherwise, caring for implants is essentially the same as caring for natural teeth. 
#4 Maintain Jawbone
Our bodies try to take full advantage of their resources. This means that if they think a structure isn't useful, they might remove it to use the resources elsewhere. 
Your jawbone is a chief example of this. If you lose your teeth, your body thinks the jawbone that supported your teeth isn't necessary anymore, and it will remove it. The loss of jawbone can cause your facial appearance to collapse, making you look older than you are or than you feel. 
Because dental implants bond to your bone, they perform the same role as natural teeth in stimulating the jawbone. This maintains the jawbone, helping it stay sturdy so that you can maintain a more youthful appearance for longer. 
#5 Can Last a Lifetime
Maintaining the jawbone also means that the dental implant will always have bone to anchor it. With the body's support, the high-quality materials used in dental implants (titanium alloys) need never fail. 
We know this might seem hard to believe, but clinical studies show that dental implants frequently last 30 years or more, and in some cases people have had their implants for 50 years or more. If you maintain dental implants properly, the implants can last a lifetime. However, the replacement teeth on the top of the implants (the crown, bridge, or denture) might not last as long. Depending on the situation, you might need to replace these after 10-30 years. 
#6 Fast Procedure
Now we're getting to the special benefits associated with the digital dental implant procedure used by the Sydney implant dentists at My Hills Dentist. 
One of the big benefits people like is the speed of our dental implant procedures. Through the combination of features like a precise surgical guide and digital mock surgery, we prepare thoroughly for your implant procedure. As a result, we can place two dental implants in as little as 15 minutes. In traditional procedures, placing two implants might take as long as 130 minutes–almost 10 times as long!
#7 Less Waiting for Restorations
It's not just the procedure that will be faster, you'll also get your restorations: the crown, bridge, or denture faster with our digital procedure. 
With traditional dental implant procedures, you might wait an average of 123 days to get your full replacement teeth. With our procedure, the average is 5-7 days, with many people getting their temporary restoration the same day as their dental implants. 
#8 More Comfortable Procedure
In preparing for your procedure by utilizing the mock surgery step of the digital process, your Sydney implant dentist can optimize your procedure and minimize disruption to your jawbone and gums. We can set it up so there's no need for incisions and no sutures.
In addition, we offer modern anesthesia so there's no discomfort at the time of the procedure. If you're still worried about discomfort, we offer sedation dentistry to help you avoid anxiety around your procedure. 
#9 High Precision Placement
The use of surgical guides makes it easy for a Sydney implant dentist to place dental implants precisely where they want them. However, some surgical guides might allow placement errors of as much as 5° on average, but our precise surgical guides allow an average deviation of less than 1°.
#10 Better Tooth Fit
The high precision of our surgical guides sets us up to make replacement teeth that fit perfectly in your mouth. These teeth not only fit with the dental implants that support them and the teeth on either side, but they also fit perfectly with the teeth opposite them: their occlusal partners. 
We can achieve this great fit because the digital design process lets our Sydney implant dentists design the dental implants all at once. The implant, abutment, and restoration are all set up to fit together at the beginning. Then our precision placement ensures that we won't have to alter the plan after surgery. 
Experience the Benefits of Dental Implants in Sydney
Hopefully, we've convinced you that not only are dental implants the right choice for tooth replacement but that My Hills Dentist is the right place in Sydney to get them. Read more about the advantages of our digital dental implant approach if you need more information. 
Please call (02) 9686 7375 or use our online contact form to request an appointment at My Hills Dentist, located in the Baulkham Hills neighborhood.