Why Choose Implant Dentures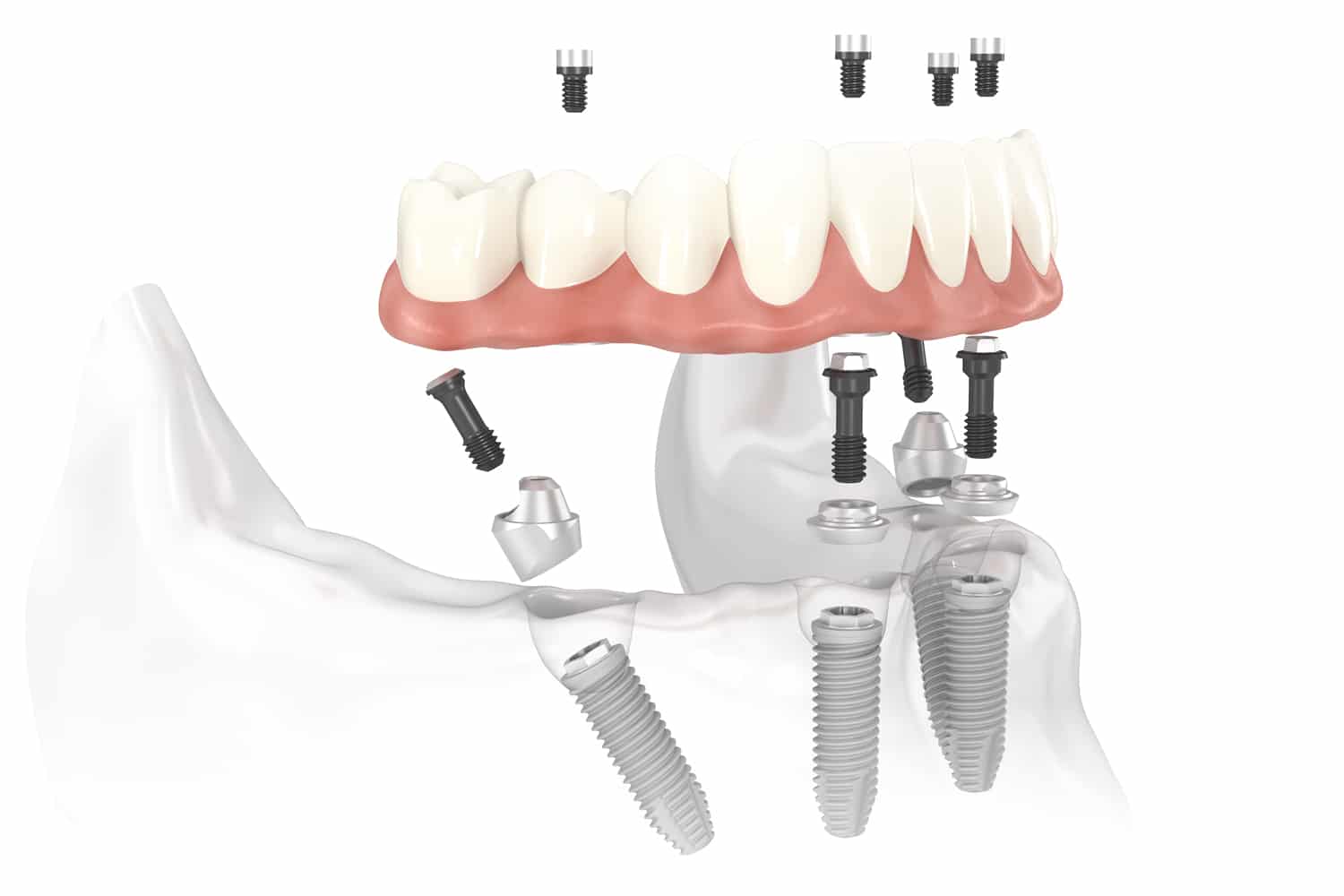 Dental implants are an advanced technique for securing dentures in your mouth. They offer many advantages, including:
Dentures are fully secure — won't slip when you talk or eat
Dental implants let you chew better
Dental implants eliminate denture pain by supporting dentures on implant and bone, not soft gum tissue
Dental implants provide even pressure your jawbone so you retain more bone density, which means a longer, better fit
Procedure can be completed in one day with the All-on-4 procedure!
Implant dentures are a great option for people who are not candidates for full tooth replacement with dental implants, or who do not want to go through full tooth replacement with dental implants.
How Implant Dentures Work
Implant dentures are similar to traditional dentures—they are a full arch of teeth set in a base that looks like your natural teeth and gums. But traditional dentures just sit on your gums and are "secured" by the way they fit and suction. Implant dentures, on the other hand, click, snap, or slip onto dental implants.
Dental implants are artificial tooth roots made of titanium. They become fully integrated into your jawbone, so they are as strong and effective as your natural teeth. When your denture is fastened to them, it will look and function like a set of natural teeth.
Work with a True Implant Dentist
Case planning and execution for implant dentures can be very complex, and requires specialized knowledge and skills. Many dentists who advertise dental implants do not actually have the skills necessary to execute the procedure. Instead, you will be referred to a specialist for some parts of the procedure, which may be inconvenient and introduces opportunities for miscommunication at multiple stages in the procedure.
Dr. David Lee is an accredited member of the Australian Society of Implant Dentistry and member of the ITI (the International Team for Implantology). He has successfully performed many dental implant procedures from beginning to end, and he can provide you with convenient and continuous care for rapid and precise treatment.
To learn more about implant dentures and how you can take advantage of this remarkable development in modern dentistry, please call (02) 9686 7375 or contact Dr. David Lee in Baulkham Hills, NSW today.
Any surgical or invasive procedure carries risks. Before proceeding, you should seek a second opinion from an appropriately qualified health practitioner.