Advantages of the Inman Aligner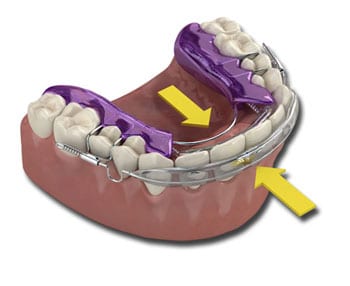 The Inman Aligner™ is a newly-developed orthodontic treatment that offers many advantages for people looking for great results fast. Benefits of the Inman Aligner™ include:
Speed: The Inman Aligner™ is faster than either braces or clear plastic aligners. Treatment finishes in just 6-18 weeks.
Comfort: The Inman Aligner™ uses gentle, consistent forces to move teeth, unlike braces and plastic aligners, which periodically ramp up the force on your teeth, which can be uncomfortable.
Price: The Inman Aligner™ is a less expensive orthodontic treatment than either braces or aligners.
Removable: You can remove the Inman Aligner™ for eating and brushing, so there's no diet restrictions or special hygiene.
Ease: You don't have to wear the Inman Aligner™ for as many hours a day to achieve results.
The Inman Aligner™ does have some limitations. First, the cases it can treat are limited. Many people won't be good candidates for the Inman Aligner™—but may be candidates for Six Month Smiles™ or Simpli5 Clear Braces.
The Inman Aligner™ is also a highly visible orthodontic treatment. People will know when you're wearing it.
How the Inman Aligner™ Works
The Inman Aligner™ is a removable teeth straightening brace in which the straightening force is provided by a nickel titanium spring that draws two aligner bows together. One bow pushes on your teeth from behind, while the other pulls on them from the front. Together, they work to move your teeth in both directions at the same time—a key to the device's speed.
Once you are fitted with the aligner, you will have to return to our office every 2-3 weeks to have the aligner checked.
Once you have completed treatment, you will have to wear a retainer, as with all orthodontic treatment, to maintain results.
Are You a Candidate?
The Inman Aligner™ is a great solution for people with minor crowding in the front teeth, especially for people who have previously had braces. During your consultation, we can look at your teeth and recommend the right orthodontic treatment.
To learn whether you are a candidate for the Inman Aligner™, please call (02) 9686 7375 or contact Dr. DJ Lee in Baulkham Hills, NSW today.
Any surgical or invasive procedure carries risks. Before proceeding, you should seek a second opinion from an appropriately qualified health practitioner.